A "Made in the USA" label was once a novelty in the pet product marketplace, as most foods, toys and other items were manufactured in Asia. But these days, items for pets that are produced in the U.S. are becoming more common. The reason for this is simple: Pet owners are demanding the quality and reliability that they believe comes with USA-made goods.
"There's a high degree of customer confidence in USA-made products," said Joanna Park, manager of C&C Pet Food in Burbank, Calif. "People look for higher-quality foods for themselves and their pets. This results in a greater call for these products at the store level. Sales of made in the USA items have never been higher."
James Brandly, copywriter and public relations specialist for TropiClean, based in Wentzville, Mo., asserts that many items made in the USA come with the promise of higher quality and safety standards.
"Products that are made in the United States of America have strict regulations and guidelines when it comes to categories like oral care, pet supplements and dental chews," Brandly said.
Amanda Wulff, assistant store manager for Kriser's in South Barrington, Ill., agreed, saying that quality is virtually guaranteed with many U.S.-made products.
"For us to recommend something, the standards have to be high," she said. "There's no better way to be sure of that than if it's a USA-made product."
With consumer demand driving the need for more U.S.-made products, manufacturers are rising to the occasion. In addition to higher sales, manufacturers are also seeing other benefits to domestic production.
"We have numerous reasons for producing our products in the U.S.," said Bruce J. Flantzer, director of North American sales and marketing for Moderna Products in Gaffney, S.C. "Our products are lightweight plastic but take up a lot of space, so our freight costs can be high. Manufacturing in the U.S. saves us shipping costs."
Flantzer noted that by manufacturing in the U.S., the company also  creates jobs in South Carolina.
"We are very glad that we decided to produce in the U.S.," he said. "It has been a great venture, and [our] U.S. operation is growing rapidly. We are looking to add to our U.S. presence."
At True Dogs LLC, in Boulder, Colo., founder and CEO Adam Baker cites several reasons to manufacture in the states.
"Perhaps the biggest benefit of producing in the USA is that it's what consumers want," he said. "In the pet industry and beyond, there is a growing consciousness among consumers. They realize that the way they spend their dollars reflects their personal values. More and more, they want American-made products that are produced in a socially and environmentally responsible way."
Baker also noted that making products in the USA supports the True Dog company values by creating a lower carbon footprint, providing oversight and quality assurance, and dealing with labor considerations.   
"We work with several USA manufacturing partners who we know and trust," he said. "We are in their factories on a regular basis so that we can see for ourselves who we're working with, what the working conditions are like and how well the operations are run. We have greater control and assurances that our products are being manufactured in a socially and environmentally responsible way."
The American Way on Display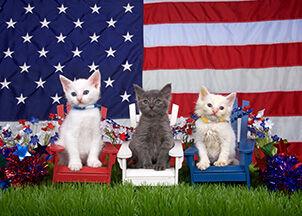 When it comes to merchandising USA-made products, it's important to emphasize where the products are made, according to manufacturers.
"Retailers are creating special sections and promotions for made-in-America endcaps, as well as whole sections for it in their stores," said Bruce J. Flantzer, director of North American sales and marketing for Moderna Products in Gaffney, S.C. "Pet people gravitate toward these products since they know they are safer."
Moderna provides retailers with various made in the USA POP displays and planograms, and recommends endcap promotions for its products.
According to Adam Baker, founder and CEO of Boluder, Colo.-based True Dogs LLC, making made in the USA products easy to find in the store is key.
"More and more consumers are looking for made in the USA products, particularly products that go in a dog's mouth, like treats, food, toys, etc.," he said. "Having a made in USA section in the store can be a good solution for some. Other retailers specialize in made in USA assortments."
Born in the USA
Several new made in the USA products have hit the store shelves this year in response to the ongoing demand from pet owners.
TropiClean's latest introductions include Life by TropiClean Hip & Joint Supplement for Dogs and Life by TropiClean Calming Aid Supplement for Dogs, said James Brandly, copywriter and public relations specialist for the Wentzville, Mo.-based company.
"Our Hip & Joint Supplement promotes cartilage development, which helps support mobility," he said. "Our Calming Aid Supplement is blended to help reduce anxiety and stress, and promote calm while supporting a healthy rest."
According to Brandly, both products have been approved by the National Animal Supplement Council. This informs pet owners that a rigorous audit was performed to guarantee customers are receiving a quality product that is safe to use and has met industry standards, he said.
"TropiClean is proud to offer products that meet the pet industry standards in every category we pursue," he said. "Pet parents can rest assured that our product has met the needs of the industry and is safe for both [them] and [their] pet."
Artvark Pet Products in Van Nuys, Calif., recently debuted made in the USA Steer Sticks and Turkey Tendon Strips under the GoGo Pets brand, said manager Art Nakagawa.
"We own our own manufacturing plant in Nebraska, so our GoGo Pets chews are locally sourced in the Midwest," he said. "They are processed in a USDA facility and shipped directly from Nebraska. Our customers like that our products are sourced in the USA. Only a handful of manufacturers make this kind of product in the U.S."
U.S.-made toys can be hard to find, but True Dogs LLC in Boulder, Colo., has recently released two products in this category, said Adam Baker, founder and CEO.
"For the SodaPup brand, we introduced the Coffee Cup Treat Dispenser, a new dog toy shape that most of us can identify with," Baker said. "We've created a new opening configuration that makes it harder for dogs to get the treats out. As with all of our products, the Coffee Cup Treat Dispenser is made from a premium durable natural rubber that is sustainable, biodegradable and FDA compliant."
The other True Dogs release is USA-K9, a red, white and blue, military-inspired dog toy brand.
"The USA-K9 brand appeals more to men with its strong point of view," Baker said. "There are many types of dog owners, and we have created the USA-K9 brand to extend our reach beyond the sweet spot that every brand is targeting."
At Greenfeather Bird Supply in West Hartford, Conn., all toys are handmade in-house, said Dena Tucker, president and owner, noting that she uses more made in USA certified and made in USA not-certified parts than any other toy maker in the bird and small mammal toy category.
This summer, she created several new toys: Orbed Jr. and Orbed Sr. are made from two different-sized parrot rings; Cricket Jr. and Cricket Sr. are a simple mix of two different hardwoods in two different shapes; Something Fishy was designed with bright colors and to be easy to clean; the Winged FT offers a texture mix that has shred and peel appeal; and the BumpKnocker FT is designed for big beaks.
Patriotic Promotions
Encouraging pet owners to purchase American-made goods should happen through advertising, promotion and customer education, according to both manufacturers and retailers.
"Retailers should provide in-store sampling and monthly or weekly specials with made in the USA treats, really emphasizing that they are made in America," said Art Nakagawa, manager of Artvark Pet Products in Van Nuys, Calif. "Promotions can be held inside the store, on TV or in print. It's not a good idea to just leave the product on the shelf and say it's made in U.S., therefore it's better. There has to be some promotion behind it so customers are comfortable paying extra."
Robin Davis, assistant store manager for All the Best Pet Care in Seattle, said that her store works with clients organically through conversations and listening to their concerns about food and treat quality.
"Locally sourced, USA-made products come up in conversation a lot," she said.