Low-calorie treats and those designed for training continue to be big sellers as more dog owners are spending time with their beloved animals, industry insiders reported. And when it comes to choosing which treats to purchase, dog owners are increasingly selective.
"Like many humans, our pets also packed on some pounds during the pandemic," said Sarah Hubler, chief strategy officer and co-president of O'Fallon, Mo.-based Pet Solutions Group, maker of the LIQ and Krunch treat brands. "With over half of our pets overweight according to the Association for Pet Obesity [Prevention], I think a lot of consumers are looking for new ways to keep their pets healthy. But we all loathe to give up those moments of happiness that treating can bring—those tail wags make us feel great and connected to our pets. So, consumers are looking for healthy and fun ways still keep those moments, but without all the calories."
At Global Pet Expo, which was held in March in Orlando, Fla., the company launched two products in the low-calorie category: Liq, a lickable dog treat, and Krunch, a crunchable air crisp dog treat.
"With Liq, just twist off the cap, hold out the bottle, and let your dog get some licks of the flavorful liquid treat inside," Hubler explained. "It's great for training, breath freshening, grooming, bathing or just because your pup looks cute. And because six licks equal one calorie, Liq can be used over and over with no impact to a pet's diet."
Krunch, on the other hand, is lightweight like a puff, Hubler said.
"These air crisps are low in sodium, low in fat, sugar free, gluten free and only five calories," she said. "And with flavors like Honey Butter, White Cheddar and Honeycrisp Apple, dogs get all the indulgence and pet parents have none of the guilt."
Weight gain is a concern with dogs, agreed Brittney Roos, digital marketing intern at Midwestern Pet Foods, a manufacturer in Evansville, Ind. She recently wrote a blog for the company's website on the topic of low-calorie treats and said that a balanced diet is just one step to help with dog weight loss. She advised that pet owners also pay attention to what treats they give.
"Our EarthBites grain-free soft dog treats are easy to break into smaller pieces," Roos wrote. "Not to mention they are packed with antioxidant-rich fruits, added vitamins and minerals, and are only five to six kcal per treat."
Jennifer Weickert, territory sales representative for NutriSource Pet Foods, a brand of Perham, Minn.-based KLN Family Brands, said that high-quality ingredients and palatability with a strong smell are important attributes for training treats. Pet owners will also look for calories listed on the front of the bag, as they desire high value and affordable treats for their beloved pups, she said.
The company recently launched NutriSource SuperStars Training Rewards—a nutritious treat with a purpose, Weickert said.
"One hundred percent of profit of NutriSource SuperStars are donated to helping families, children and pets facing hardships," she said. "These soft and tasty training treats are less than three calories per treat and are shaped like a star, making feeding even more fun and nutritious. They are offered in four delicious flavors: Bacon, Beef, Chicken and Cheddar Cheese."
Cindra Conison, owner of The Quirky Pet, a pet store in Montpelier, Vt., added that for training, the time involved in eating the treat is a consideration.
"Pet people look for either small treats or soft small treats," she said. "What matters most is the dog having a small taste and a quick chew or swallow and not spending a lot of time on the treat. Think about the dogs in a show ring—the handlers have small pieces to keep them motivated and moving."
Aidan Gannon, co-owner of PetzLove Food 'n Stuffz, a pet store in Lone Tree, Colo., said it's also important for retailers to remember that discerning shoppers, who are looking for high-quality food choices, want a high-quality treat.
"We are seeing more interest in a cleaner ingredient panel," Gannon said. "Because of that, we're selling more freeze-dried treats to be used for training."
Assortment Optimization
Mix It Up
Meeting the needs of a wide variety of customers requires thoughtful planning on a retailers' part for curating an assortment of treats that includes training and low-calorie options.
"Look for treats that will look unique on shelf but will also meet the widest variety of health requirements," said Sarah Hubler, chief strategy officer and co-president of O'Fallon, Mo.-based Pet Solutions Group, maker of the Liq and Krunch treat brands. "While meaty treats are always popular with pet owners, many dogs have developed allergies to certain meat proteins. Treats that use more healthy fruits and vegetables are a great way to cut calories while still delivering on great taste."
Jennifer Weickert, territory sales representative for NutriSource Pet Foods, a brand of Perham, Minn.-based KLN Family Brands, said that retailers can work with their manufacturer and distributor reps to make sure they have a good assortment.
"Offer a variety of products and shapes of treats—like bones, bites, stars and jerky—with different price points," Weickert suggested. "Also, have different options of sizes such as our SuperStars [training treats] offering both 4- and 16-ounce."
Aidan Gannon, co-owner of PetzLove Food 'n Stuffz, a pet store in Lone Tree, Colo., said that having a lot of flavors, textures and sizes is always important for optimizing an assortment that meets a variety of needs.
Merchandising & Marketing
Driving More Sales
Display and placement strategies can help to drive more sales of low-calorie and training treats for dogs at retail. It's not uncommon for these products to see repeat sales, according to industry insiders.
"When treats are low calorie, pet parents can also indulge in giving those treats to pets more often," said Sarah Hubler, chief strategy officer and co-president of Pet Solutions Group in O'Fallon, Mo., maker of Liq and Krunch treat brands. "And that increased frequency can also equate to them coming into the store and repurchasing sooner. Building an endcap or merchandising display around low-calorie treats not only helps consumers identify ways they can keep their pets healthier, it highlights product that may have a higher turn rate in-store."
Jason Ast, owner of Just Dog People, a pet store in Garner, N.C., noted that selling any product that a dog owner is not already familiar with comes down to "getting it in their hands."
"Opening a bag or a few bags to use as samples is an easy way to get product in your customers' hands," he said. "On a busy Saturday morning, you could have one of your team members responsible for greeting everyone who walks in your store with a dog—and offer a treat. This especially works well when, in fact, you come across customers who are training their dog currently or will be training their dog soon—or you just reminded them they need to train their dog."
Just Dog People has a specific area for training treats to help customers find them more easily, Ast added.
"Sometimes a treat company can help, too," he said. "Be sure to speak with your reps and share your ideas. Clearly explain to them how you'd like to sell more of XYZ product and that you'd like samples or maybe a reimbursement of a product that you hand out for samples."
---
Trade Talk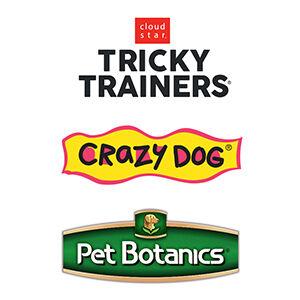 Joe McIver, senior brand manager at Whitebridge Pet Brands in St. Louis
What are some top attributes dog owners seek in training or low-calorie treats? What does Whitebridge offer that meets these needs? What are dog owners looking for in a training treat?
Successful training makes happy pet families—and the right treats can make a huge difference. Proper training can help build that connection that every pet parent wants with their dog, and Whitebridge Pet Brands is an industry leader with three leading training treat brands. Dog owners are looking for:
• Palatability: Low-calorie, highly flavorful treats that will keep dogs focused and motivated but will not contribute to weight gain are essential. Pet Botanics is low calorie and highly palatable with pork liver and a proprietary blend of eight natural fruits and botanicals for added flavor.
• Reasonable price: Because of the need for consistent treating, owners need options that don't break the bank. Crazy Dog is a whimsical brand that makes training at home fun, and with 500 pieces per bag, it's a more reasonably priced option for new owners.
• High-quality ingredients: Dog owners want the best for their babies, young and old, so superior-quality ingredients are a must. Cloud Star Tricky Trainers are a perfect choice for those looking for a cleaner label with simple, natural ingredients.