In an effort to improve their pets' lives, owners are seeking high-quality, effective supplements that address the specific health concerns they have for their pets.
"One area we've noticed a big change in is consumer demand for natural, safe and, of course, effective products," said Geoff Hamby, director of marketing for Vetericyn Animal Wellness, a manufacturer in Rialto, Calif. "Because pets are seen as equal members of the family, [consumers] expect a level of quality on par with what they would use themselves. They take the time to research websites, read reviews, check out a brand's content and compare with other products."
In terms of what pet owners are seeking supplements for—that's as varied as pets themselves, Hamby noted.
"From bone and joint health to gut health to calming, there is a supplement for just about every need," he said.

Vetericyn's latest innovation, All-In, is a life-stage supplement for dogs, Hamby added.
"We partnered with world-renowned scientist and pioneer in molecular medicine Dr. A.S. Naidu to develop life-stage-specific ingredient complexes paired with a protein-based absorption technology," Hamby explained. "The science behind the complexes in All-In is so unique it's been awarded eight patents. All-In is the only life-stage dog supplement that combines comprehensive nutrients, specific biochemicals and patented bioactive complexes with an effective absorption technology. Together, these provide dogs the optimal dose, ratio and quality of nutrients to maximize their well-being."
Mark Dunn, owner of Nature's Pet Market, a pet store in Eugene, Ore., said that there's no doubt that function is driving the demand for supplements.
"We find that pet parents want very specific products that meet very specific needs for their cats and dogs," Dunn said. "Anxiety is one of the biggest requests we get, followed by joint discomfort and gut health. Basically, pet parents have a problem and they are seeking a solution."
Carla Torppey, store manager of Living Pawsitively in Lafayette Township, N.J., reported that consumers are interested in safer, natural alternatives to medications.
"We have customers who use supplements, especially CBD [cannabidiol] products, for everything from joint health to anxiety to post-surgery recovery," Torppey said. "I think we're in a time when people don't just accept what the veterinarian might prescribe but would rather first think about a safer, natural alternative. Personally, I've witnessed my dogs [recovering more quickly] and [bypassing] some of the negative side effects of medications by turning to a product like CBD instead."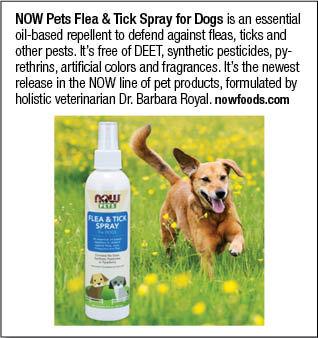 "Most pet parents are seeking supplements to support pets with health issues," said Julianna Carella, founder and CEO of Treatibles in Petaluma, Calif. "Oftentimes, when a pet is feeling ill, they experience a loss of appetite. Due to this, we are seeing a great deal of interest in both topical applications and easy-to-administer oils."
Treatibles, which specializes in products containing hemp oil, also offers products in a chew format. The company recently introduced Tater's Sweet Potato Tots soft chews, which feature calming ingredients including organic full-spectrum hemp oil with naturally occurring CBD, valerian root, passionflower and chamomile. These chews are ideal for senior dogs that prefer a softer consistency, Carella said.
Torppey said that hemp oils are catching on quickest at Living Pawsitively.
"Oils have a higher potency [of CBD], and pet parents report that they seem to work faster," Torppey said. "If a pet won't eat, sometimes it's easier to just syringe the oil into their mouth."
But Janet Monaco, owner of Pet Pros, a pet store in Rockledge, Fla., said her experience has been that chews are much easier to administer—and preferred by her customers.
"When you're talking about cats or a pet that doesn't like you getting by their mouth, you really do need to think about a supplement form that they will willingly take," she said. "For us, chews sell better than oils."
Education
Be the Trusted Voice
Manufacturers are recognizing the importance of education in the pet supplements category and are supporting independent retailers in their efforts.
Geoff Hamby, director of marketing for Vetericyn Animal Wellness, a manufacturer in Rialto, Calif., said education is critical because the more pet owners know, the more comfortable they will be with making a purchase.
"Blogging, social media, and in-store classes are all great ways retailers can educate customers on the products and their impact on pet health," Hamby said. "We have a great team that creates helpful blogs, infographics, and video content to entertain and teach both the pet parent and the retailer."
Vetericyn's efforts to support retailers also include accessibility to a veterinarian who can answer questions, attend events and participate in live social media videos.
"We make these resources available to all our partners to help bolster their own marketing efforts," Hamby added. "We also host in-store trainings and events to demo product and answer questions retailers and customers have. Utilizing these resources are just some of the ways a retailer can help educate their customers."
Treatibles, a Petaluma, Calif.-based manufacturer of broad-spectrum hemp oil products, is also making a concerted effort to support retailers in education.
"We offer weekly webinars designed to not only educate retailers and their staff about our product line, but also about the history of the company, the science behind our products, the latest research studies and more," said founder and CEO Julianna Carella. "We encourage questions. We want retailers to feel comfortable with this knowledge."
Carla Torppey, store manager of Living Pawsitively in Lafayette Township, N.J., said that staying abreast of information in the supplements category is essential, as Living Pawsitively's customers certainly are.
"Our customers are educating themselves more, so it's imperative that we also keep up with the latest information," Torppey said. "But it's not just self-education. We've been surprised by the increasing number of people who tell us that their veterinarian sent them in. There was a time when vets would only ever recommend a medication that they could supply. But the mindset is shifting, and we must be prepared."
Janet Monaco, owner of Pet Pros, a pet store in Rockledge, Fla., reported that she is also getting a fair number of customers sent by veterinarians who are recommending supplements. She agreed that this puts the pressure on independent retailers to "know their stuff."
"We are often the trusted voice that pet parents want to hear from," Monaco said. "I do get some customers who have done some of their own research, but from questionable sources. I think it's important that we also educate pet owners on what is credible information—and what's not."
Mark Dunn, owner of Nature's Pet Market, a pet store in Eugene, Ore., said that staff members do their best to remain knowledgeable, but they also suggest that their consumers do some of their own research.
"Education is important in everything, but with supplements, I would say it's critical," Dunn added. "The internet often makes people feel like a genius—but you need to read the good and the bad, not just one side. There's often information on both sides, and being truly educated means reading it all. We do suggest that our pet parents read some of the information out there to come to a conclusion of what's right for their pet."
---
Trade Talk

Ann Hudson, vice president of marketing for Whitebridge Pet Brands in St. Louis
How can treats with functional benefits complement a retailer's supplements selection, and what kinds of functional benefits are pet owners most interested in?
The dog population is aging, and more and more dogs suffer from challenges with weight. Both aging and weight can lead to hip and joint issues. Aside from dental, it is the most-consumer-requested functional solution for dogs. Surprisingly, this is not only a large-dog issue—many small dogs, like dachshunds, also have problems. 
The challenge is that pet parents see treats as an indulgence, not a solution. Dogswell functional treats give them the option to indulge without compromising a health or recovery regimen prescribed to improve certain conditions like hip and joint deterioration or skin allergies. 
I think one of the most appealing things is that Dogswell functional treats look good, smell good and are good. Supplements aren't always very palatable or are in a format like a pill, which is hard to deliver. 
Dogswell functional jerkies, grillers and soft strips are made only from meat with active supplements proven to support specific health conditions. Our most popular product is Dogswell Hip & Joint with 60 percent protein, made from chicken, duck or beef. High levels of glucosamine and chondroitin are the actives, but they also contain green mussel, which is a catalyst for increased efficacy of both of those supplements. They don't contain any carbohydrates, added sugars, unnatural colorants or chemical preservatives. 
An added benefit, and something that appeals to a lot of pet owners, is that they are made in the USA and in our own plant in southern Missouri. We monitor quality and safety on each incoming ingredient and on every single one of the batches we make.