Expectations for dog and cat toys are high—not to mention diverse—and shoppers want creative, fun toys that will excite their pets.
"The era of the basic dog and cat toy is in the rearview mirror," said Bill Parsons, sales manager for P.L.A.Y. (Pet Lifestyle And You), a San Francisco-based manufacturer. "Today's trends in pet toys are wide ranging, but the thread that runs through all the trends is creativity and uniqueness, plus form and function, which are essential aspects of the best-selling pet toys in today's market. Pet parents have been introduced to toys that not only include unique and interactive features, but also are designs that engage both their pets and pet parents alike, and now there is no turning back."
Tyler Johnson, product manager for toys and behavior at PetSafe, a manufacturer in Knoxville, Tenn., agreed that pet owners appreciate toys that are engaging.
"Pet parents are looking for toys that keep their pet distracted and engaged so they can focus on chores, working from home or other projects where their pet may be too eager to help out," he said. "Other benefits that pet parents are looking for when shopping for toys include mental and physical stimulation, curbing separation-anxiety triggers and helping with dental hygiene."
Pet owners are also seeking durable toys, said Courtney Broyles, a sales associate at Fetch & Friskers Pet Shop and Barkery in Boerne, Texas.
"Shoppers want something that is going to hold up to wear and tear," Broyles said. "We also get a lot of little dogs, and they want to play, too. In general, we have found the small dog toy category is a bit lacking in terms of options as compared to big dog toys."
Kristyn Schwartz, owner of Puppers & Hairballs, which has a store in Sebring, Fla., and a Lake Placid, Fla., location coming soon, agreed. In her area, small dogs are popular, but she said there isn't always as much choice when it comes to toys for small dogs.
"In general, small dog toys tend to be a bit less durable, and you can still get some very intense chewers amongst the small dogs," Schwartz said. "I would love to see more options in this category."
Schwartz said another subcategory that tends to get overlooked is cat toys.
"I'm a cat person, so I'm sensitive to that," Schwartz said. "We love the Yeowww! Catnip toys that are made from [organically grown] catnip with no filler. Catnip toys in general tend to be popular with cats."
P.L.A.Y. is another manufacturer focused on meeting cats' play needs.
"Today at P.L.A.Y. we are proud to offer 18 amazing styles of cat toys in our Feline Frenzy Collection, many inspired by our most successful dog toys both in design and select features, and there are more to come," Parsons said. "While nearly all the Feline Frenzy cat toys include some elements of our USDA [U.S. Department of Agriculture]-certified organic catnip and crinkle, each integrates these features into its design in unique and surprising ways. As an example, our Purrfect Picnic cat toy set, which includes two delectable designs, is based on our corn and fried chicken toys from our Farm Fresh and American Classic Dog Toy Collections. Texture and size were part of the careful crafting of these toys to give the best experience for the frisky felines that play with them."
Something for Everyone
With so many toys available, curating the ideal assortment is no simple task. Industry insiders said retailers should try their best to meet a range of needs.
"An essential element for retailers to understand about selling a variety of items for dogs and cats is that the market is not a one size fits all," Parsons said. "Be it dogs or cats, like humans, they are each unique and they play, as well as interact, with pet products differently. Each type of pet and pet parent is looking for unique function, safety, and design of the products they choose, and the dedication to understanding those needs and desires by retailers is often rewarded by true customer loyalty to those retailers as well as the products they carry."
At Puppers & Hairballs, the staff go through a selection process when deciding which toys to stock, Schwartz said. First, they look at toys that are very cute and attention grabbing. Then, they also consider durability and other factors that pet owners might be seeking.
"We then try to pare it down from there with brands that we know and trust," she said. "We do have two big toy walls, but we still can't carry everything. Our goal is to try and have options for everyone with as much variety as we can."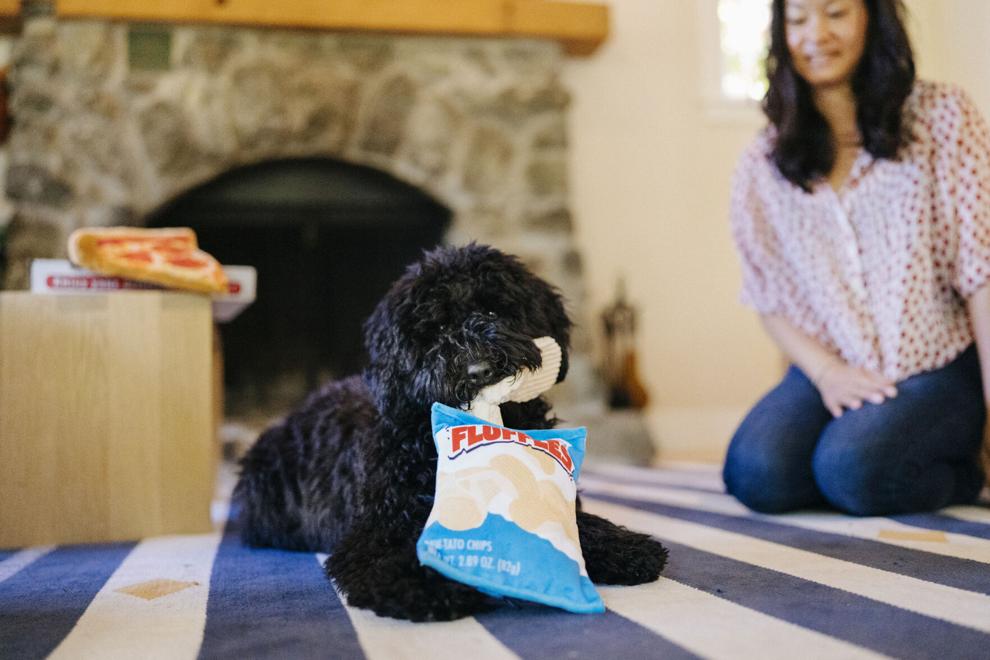 New Products
Serving Up Foodie Fun
Manufacturers are offering a range of playthings designed to entice pets and owners alike, with fun food designs taking center stage.
San Francisco-based P.L.A.Y. (Pet Lifestyle And You) has continued to have great success with its new Snack Attack Collection, which is based on the "delicious treats we all crave," said sales manager Bill Parsons.
"The visual impact of P.L.A.Y. toys is unmatched in the pet product industry, but they don't stop there," Parsons said. "With features like individual corduroy textured chips attached by bungee to the inner pocket of the Fluffles chips toy from the Snack Attack Collection, dogs and dog parents enjoy hours of fun tugging, as well as engaging with the find-and-seek feature of the hideaway chips and crinkle-textured wrapper."
Orono, Minn.-based Spunky Pup recently introduced a line of rubber toys that are made in the USA. The toys float and come in several shapes, from tools—including a wrench and a hammer—to a treat-holding pineapple, which is available in several sizes.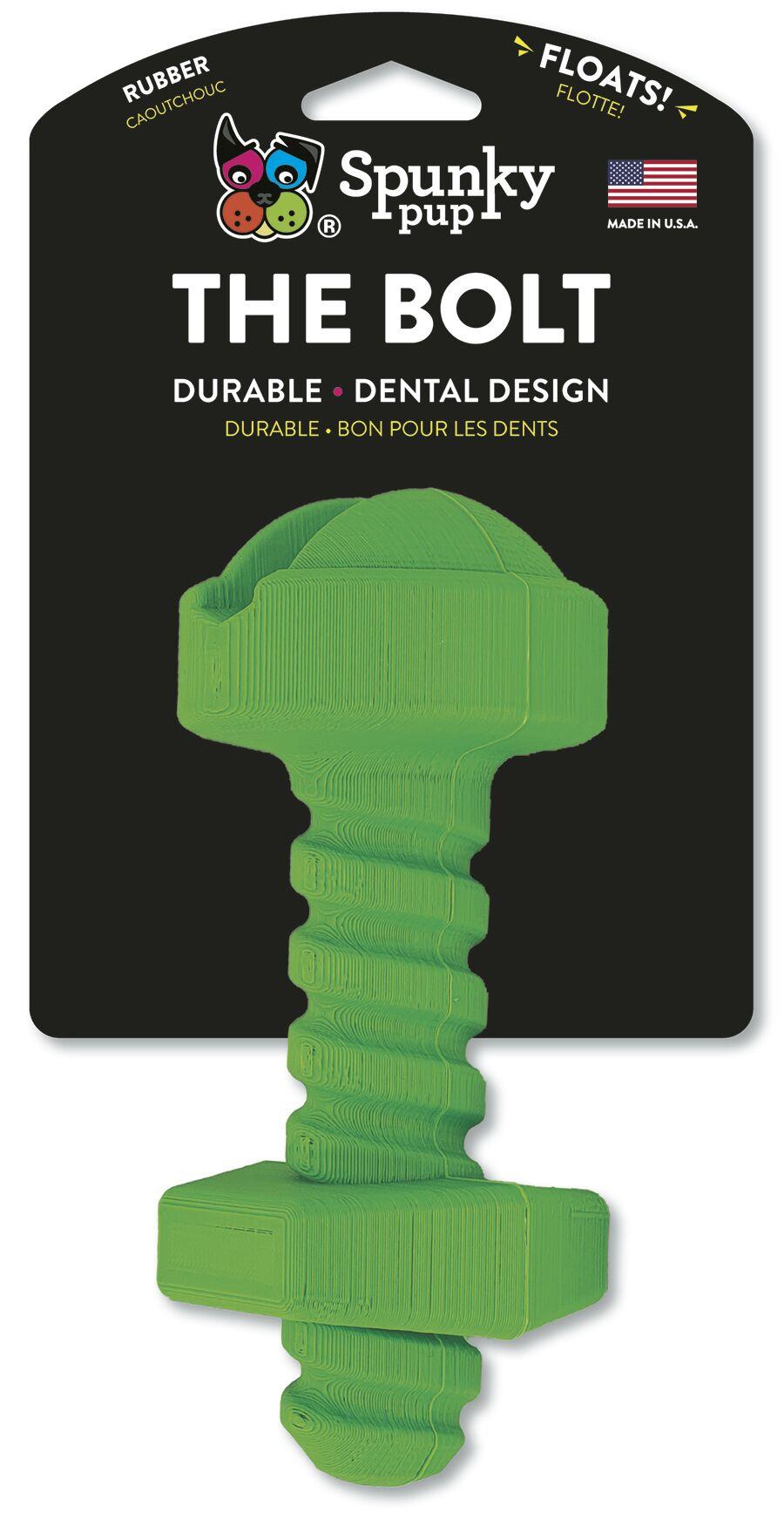 Tyler Johnson, product manager for toys and behavior at PetSafe in Knoxville, Tenn., said the manufacturer's food-themed toys are popular.
"We have the Slab o' Sirloin, Cravin' Corncob, Chompin' Chicken and Frosty Cone," he said. "All of these toys are made of BPA-free, durable, scented rubber and are feature-rich to provide benefits. Our Frosty Cone holds smearable treats or broths and is designed to freeze the treats, requiring your dog to slowly lick the frozen treat over time to help distract them."
Adam Baker, founder and CEO of True Dogs, the Boulder, Colo.-based manufacturer of SodaPup toys, said that after the company introduced its eMat lick mats, customer feedback revealed that some dogs get really excited and chew the lick mats, which are not made to be durable like a chew toy. This inspired the creation of an eCoin, called Air, which is a licking product made from hard nylon material.
"It is perfect for small dogs and for enrichment snacks, and it can't be destroyed," Baker explained.
Marketing & Merchandising
Making More Sales
Dog and cat toys are popular categories as pet owners love spoiling their furry family members, but pet specialty retailers can still benefit from keeping toys top of mind with consumers through informed suggestions and by regularly refreshing their selections.
Bill Parsons, sales manager for P.L.A.Y. (Pet Lifestyle And You), a San Francisco-based manufacturer, said that the best way to move more toys is to encourage sales associates to make experienced recommendations.
"Retailers should make sure their teams are up-to-date on new product styles and their features, but also to experience the products for themselves so they can give recommendations based on firsthand experience," he continued. "As with most products, firsthand experience by a retailer's team often results in multiple times more sales than to just have it hanging on the rack or stacked by the counter."
Toys are an area where the independent retailer can really shine, said Adam Baker, founder and CEO of True Dogs, the Boulder, Colo.-based manufacturer of SodaPup toys.
"One of the competitive strengths of smaller, independent retailers is their ability to turn on a dime," Baker said. "These retailers can use this to their advantage by changing up their toy assortment more frequently. Larger retailers will struggle to keep pace with a faster pace of new product introductions. I came from the apparel and footwear industry where we 'flowed' new items quarterly, giving shoppers something new to buy on a regular basis. This keeps consumers coming back to see what's new."
SodaPup introduces new items almost every month, including many seasonal items, Baker noted. 
"This gives our retail partners new things to flow through their assortment throughout the year," he added.
Ward Myers, owner and president of Spunky Pup, a manufacturer in Orono, Minn., noted that themes and grouping items that pair well together can also pique shoppers' interest.
"Retailers can have 'Made in the USA' endcaps or treats with treat-dispensing toys merchandised together," he said. "Themes can grab attention."